Want to dive in a little deeper and learn more about us?
Then keep reading!
We're on a mission to live simple on minimal money and experience life as much as we can. This website was started to document the journey, inspire people to live their lives by taking chances and a place to visit for camping/simple living resources. We have so many new updates coming soon including videos (We had a year of content we haven't shared yet!)
IF YOU HAVE ANY QUESTIONS,
PLEASE COMMENT BELOW AND ASK AWAY OR YOU CAN CLICK CONTACT TAB AND SHOOT US A DIRECT MESSAGE, WE'RE SO HAPPY YOU STOPPED BY.
More about Kermit:
Hello, I'm Kermit, also 34 years old. I grew up in York, PA. I have been with the I.B.E.W. for 13 years which is a great job that allows us to potentially get work all over the country. I knew that I have always wanted to travel for a greater extended period of time. I am a pretty carefree person and when we were selling everything and moving out of our house I even had thoughts of, "Why are we moving? Leaving a good job, great house, friends and family which I love so dear?" but it was so excited to have everyday be a new challenge, the unknown. I sold a lot of things I worked hard to get to have more money to fund this trip and I have not regretted any of it. Yes, leaving security was hard but there was adventure waiting on us. The excitement that I feel right before I see a place that I have always wanted to see leaves me speechless! I know that traveling is not everyone's goal or passion and that is also great! Everyone is different and everyones goals and dreams that aren't the same. This was our dream and goal and we worked damn hard to achieve it.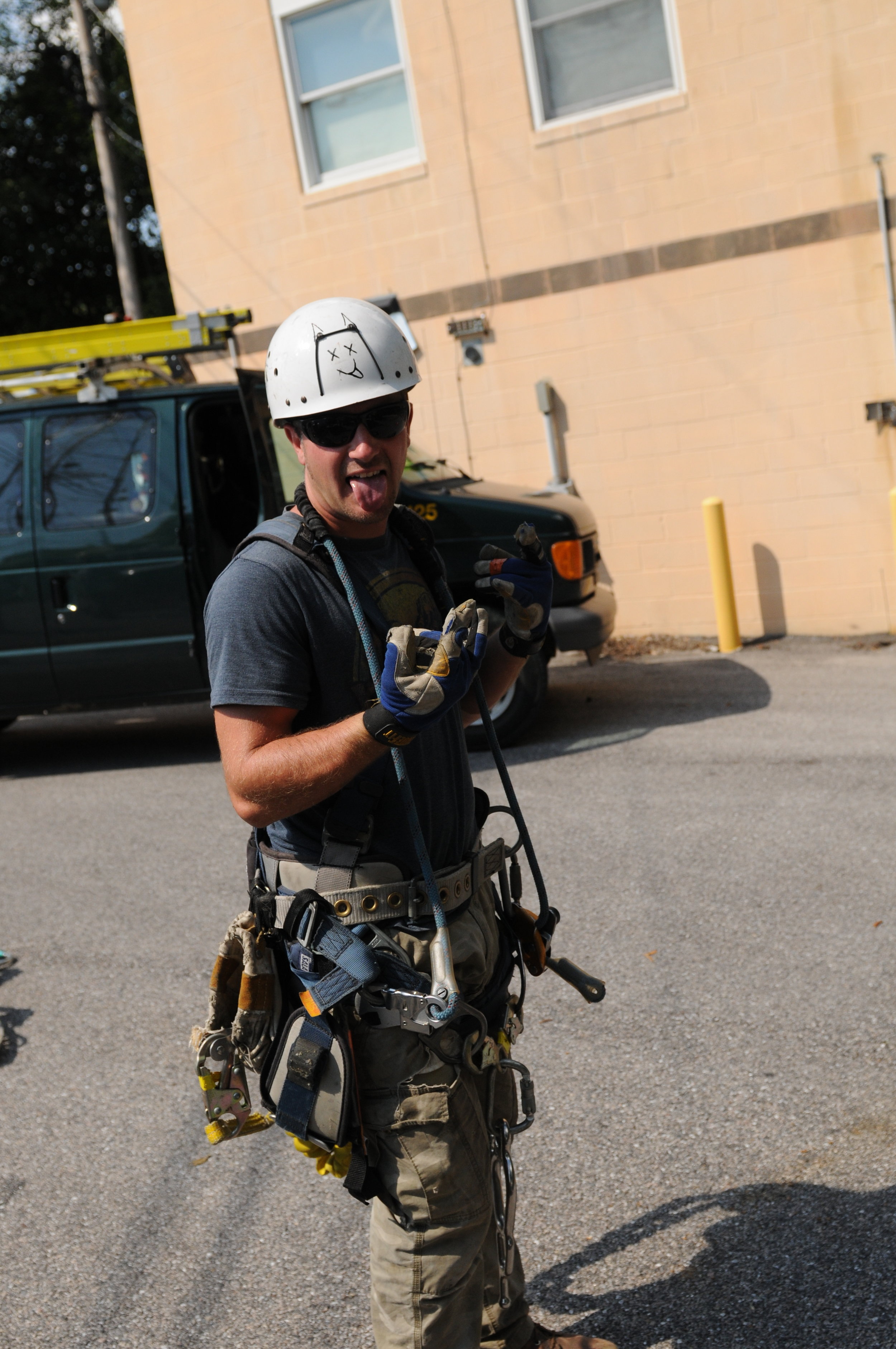 More about Trinity
Hi, I'm Trinity, 34 years old (almost 35). I was born and raised in Georgia and lived in Pennsylvania for 12 years where I met Kermit. I have my own photography business www.trinitywalkerkeefer.com and capture wild weddings, elopements and portraits. I would love to capture you on the road, check my updated travel schedule and follow on instagram at @trinitywalkerkeefer.

Growing up I never camped, It's still crazy to me that I live the camp-life full time. This journey has taught me so much about myself, life, geography and my best friend. I ride motorcycles, wish I could skydive every week and would be fine having about 15 dogs at one time! I also don't know what else to say about myself so I'll end my rambling here...
What got you into RV'n?
Trinity: HAH! Crazy story and long story short: Kermit had always questioned himself "why don't I drive across country in an RV while I'm young?" So, back in 2012 while sitting at a bar he started shopping for RV's. Two weeks later he was the owner of a Class C motorhome and was about to embark on a SOLO adventure of a lifetime. Kermit wasn't going to take any women on the trip, he wanted to go alone or with a childhood friend, BUT that all changed when he met me.

I was friends with Kermit's brother's wife, Valen whom I met through a kidney donation and was living in California at the time with her husband Noah (Kermit's brother). Valen casually mentioned to me, "You should drive across country with Noah's brother Kermit." My immediate response was "I'm NOT driving across the country with a boy named KERMIT! That I don't even know!" Well, that changed! I met Kermit and TWO WEEKS after meeting packed my bags and was driving across the country with a boy named KERMIT! Haha. We lived in that RV for one month, fell in love, fast forward a year and a half got married. Little did we know several years later we'd end up living in an RV FULL TIME across the country! So, RVing is how we met and has become a huge part of our lives.
What has been the most surprising thing about living on the road?
Trinity: Well, first of all I'm just recently getting over the shock that I could get rid of almost everything I own and move from 2,500 square foot home to our 280 square foot home on wheels. I always admired people who could live so simple, I never thought that would be possible for me. Over a year into this lifestyle and I can't imagine doing anything else right now! I absolutely love that every item is purposeful in our house, and I actually know WHERE it is! The other surprising thing for me is the people we have met on the road. We're not huge social media fans, but it's been able to connect us with people who we now call our "road family" and we will forever be in contact with. It's been so cool to find a community of other people, especially people our age, who are living this lifestyle.
Kermit: The people! We have met people from all over the country that we will always stay in contact with, road friends! How much I don't miss the big house and property. Well, I do miss having a garage to tinker in and a basement with all my music equipment laid out and ready to jam, aww and also throwing parties. How we feel more safe sometimes boondock camping.
Why did you choose a fifth-wheel over other rigs?
There's really no perfect solution for anyone, it's just what makes the most sense at the time. We chose a 35' Keystone Fuzion 5th wheel toy-hauler that we pull with our 2005 Chevy 3500 diesel dually. This way we can disconnect when we pull into places and take our truck exploring or for when we needed transportation for work we didn't have to move our whole house. Some people drive a Class A and tow a vehicle, then you have two engines to worry about. The most important thing for us was to find the perfect solution to haul our toys! We currently have 3 motorcycles (1 vintage style Triumph Bonneville and two dual sport (dirt bikes) on board along with 2 kayaks and 2 bicycles). Having the 10 foot garage in the back was a must. We lose a lot of living space, but having our toys was the only way to roll for us!
When will you stop traveling and settle. any future plans?
Nope! We almost moved to Northern California from Pennsylvania before we bought this camper because we really like that area. We decided to do this instead and live at the beach, mountains, desert, etc. It's turned into a journey of where we would like to settle for a bit in the future or just get different properties and haul our house to each. We can't decide on just one spot for now!
How can you afford to do this?
The way we live, this lifestyle is SO CHEAP! Honestly, everyone thinks we're on a constant vacation but, we do the same thing as everyone else does: make dinner's at home, sandwiches for lunch, etc. The whole point of this was to travel the country on as little money as possible so we could continue this journey for a while. Once your rig is purchased, it's normal maintenance like a home (things always come up), diesel to travel to different locations and where we are parked. Often times we stay on BLM lands (Bureau of Land Management) which means we live off-grid for 2 weeks for FREE! When we live off grid our expenses are the propane for stove and hot water heater and gasoline for our on-board generator. Our rig is fully self contained and we can live with no hook-ups for about 2 weeks. We purchased our toyhauler used, it's a 2009 that had only been used a few times and kept in a climate controlled garage. Total price was $24,000 – not bad when you consider that's our first home purchase, so we don't have a mortgage, this is our only home. Our truck us used also, 260,000 miles on the odometer. Kermit is great with working on things and maintenance, so we would rather fix things as they happen than to have a huge truck payment for a new ride, and we are not persuaded with the word warranty. The 5th wheel hitch we purchased used for $450.(Curt 20k) The custom frame rails (connects from the truck frame to the bed plates) we purchased new for $200. Installing the items for the hitch was not hard just some measurements and thought.
Do you have a shower? Can you cook in there?
We often get asked this for people who are not familiar with RV's and the answer is Yes! We can do everything you can do in your homes, it's just on a smaller scale and we have to take an extra step and plan ahead a bit more. We have a queen size bed, bathroom, shower, 3 burner stove, oven, refrigerator, a furnace with floor vents and central air. We have two queen size retractable beds in the garage area that we can turn into a spare bedroom when we have guest over. So, even though we only have 280 square feet total, we can accommodate 7 adults comfortably!
What are your favorite spots ?
(PICTURES OF EACH COMING SOON!)
This varies so much and is constantly changing. For instance, we LOVED Arizona in the winter for the landscapes and so many trails to ride, however.. we would hate it there in the hot summer.
South Padre Island National Seashore in Texas was so serene and peaceful in the winter off-season
We camped near Grass Valley/Nevada City in Northern California for 6 months and loved that area
Topsail Hill Preserve State Park / Santa Rosa Beach, Florida
Lost Dutchman State Park / Apache Junction, Arizona
Casino Del Sol / Tucson, Arizona ( Free, Boondock camping)
Oliver Lee State Park / Alamogordo, New Mexico
Box Canyon BLM / Superior, Arizona
White Tank Mountain Regional Park / Waddell, Arizona
Lake Pleasant Regional Park / Morristown, Arizona
BLM Land anywhere in Arizona is amazing
Sawtooth Canyon BLM / Lucerne Valley, California
Sequoia RV Ranch / Three Rivers, California
Dutch Flat RV Resort / Gold Run, California
Campendium.com is a great source for locating campgrounds as well as BLM and National Forest locations.
Things we've learned on the road:
Do your online research, but the best spot to learn about what the locals do, stop in at the local bar and strike up a conversation! This has lead us to so much greatness! Also, for great places to stay check out www.campendium.com and www.freecampsites.net

Always keep quarters, otherwise your laundry isn't getting done! Also, laundromats are not as sketchy as I thought, make sure you're on the right side of town!

Trucker apps for your phone such as AllStays Truck & Travel and Trucker Path are great for looking for fuel stops. We always look way ahead when traveling to make sure we can get into a diesel pump, especially out West. We also always have a 5 gallon diesel tank in the back of the truck with a rattle siphoner. Beware that not every fuel station has diesel and even if they do, it might be to small or clearance to low to get your rig into. So just pay attention and have spare fuel, always.

As much as silver bubble insulation in the windows looks like we're crack heads or we're astronauts it really makes a difference in saving on propane and electricity when it's below 40 degrees.

We had smaller tanks on our first RV so this was a longer stretch with tanks, but you immediately learn how to conserve water and be aware of every gallon you're using.

Always check your tire pressure, always! Your pressure changes when the temperature changes and it's not worth having a blowout. We also recommend, even if you have a brand new trailer, replace the crappy factory tires they put on there (I know, they look fine and tires are expensive, but just google tire blow out and you'll second guess yours). Also with tires they are all date stamped on the side wall. Even if they look fine and have a lot of tread doesn't mean they are still in good shape. If they are out dated by 10 years replace them as they can separate from the inside out.

Don't be afraid to boondock camp. Just make sure to do your research before going out. Boondock camping ( living off grid for free out in beautiful scenery) is our favorite!!

When it comes to campgrounds there is more demand than supply. RVing has gotten so big that there just is not enough campgrounds to support the big RV boom. In some cases, a bad thing. Through this huge demand of campgrounds the owners can charge whatever they want and know they will get it. If RVers don't have another option in the area they want to be, what are they to do? #Letsstartacampground
Thanks for stopping by! Be sure to comment below and let us know you're here, just say hello !